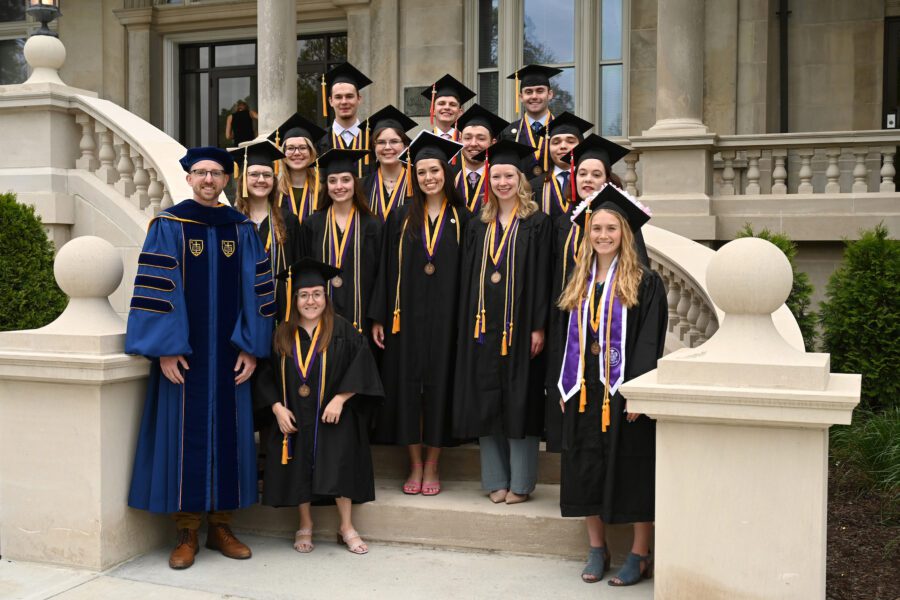 The University Honors Program provides the opportunity for academically gifted students to develop their scholarly abilities through intensive interdisciplinary coursework, enrichment activities and a two-year mentored research project.
Over the past 13 years, the Honors Program has graduated 152 students, all of whom completed a capstone research project and thesis supervised by a faculty mentor in their respective disciplines. These significant undergraduate research experiences open the door for leadership opportunities in academia and industry. The graduating cohort of 2023 included representatives from the fields of literature, biology, zoology, social work, theology, nursing, communication and mathematics. Research projects covered such varied topics as the effects of creatine supplementation on muscle synthesis and fitness levels; the use of aloe-based silver nanoparticles to treat contaminated water; police officers' perceptions regarding their interactions with people with disabilities; the potential effects of childhood trauma on college student self-esteem; the best methods for preparing students to succeed on the Medical College Admission Test; the biology and ecology of beetles in endangered ecosystems in the Midwest; and considering diversity and inclusion in the design of elementary curriculum.
To be eligible for application to the Honors Program, students must meet at least one of the following qualifications: have an ACT score of 28 or an equivalent SAT score; graduate in the top 10 percent of their graduating class; or have an unweighted GPA of at least 3.75 on a 4.0 scale.
Students in the program participate in a sequence of team-taught, discussion-based classes during their freshman and sophomore years that satisfy four of Olivet's core general education curriculum requirements. These courses explore what it means to be human and expose students to the Christian liberal arts tradition.
Each cohort begins the Olivet experience with freshman Honors Program welcome weekend activities and caps coursework with a cultural excursion to Chicago during the sophomore year. In their junior and senior years, students receive funding for travel and supplies related to their research projects, and they complete their studies under the supervision of a faculty mentor of their choosing.
The culmination of students' research is published in ELAIA: The Olivet Nazarene University Honors Journal. All volumes of ELAIA can be read online at issuu.com/Olivet. For more details about the Honors Program and application information, visit olivet.edu/honors.