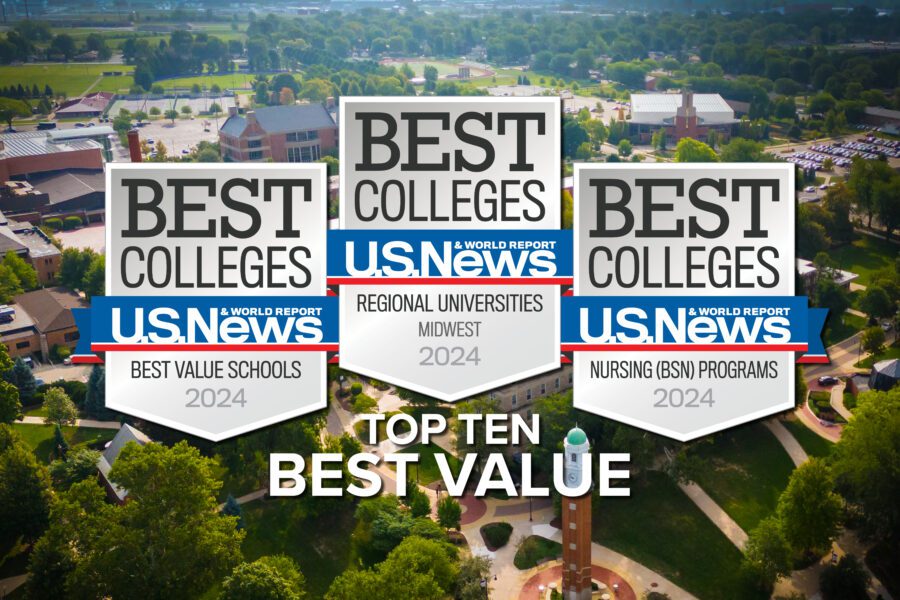 U.S. News and World Report released the 2024 Best Colleges report, and Olivet Nazarene University received rankings and recognition in five distinct categories.
Olivet is recognized as a Best Regional University (Midwest) and the #10 Best Value School (Midwest).
Olivet also received special recognition as a Best Undergraduate Engineering Program among schools with an undergraduate engineering program accredited by ABET (Accreditation Board for Engineering and Technology).
ONU is also a Best Bachelor of Science in Nursing (BSN) Program, which is determined by scores from surveys of top academics and officials at nursing schools and based on overall quality. Schools must have bachelor's-level accreditation by either the Commission on Collegiate Nursing Education or the Accreditation Commission for Education in Nursing. In addition, these regionally accredited institutions must have recently awarded at least 40 BSN degrees.
Once again, Olivet received the Top Performer on Social Mobility for 2024, recognizing the university's ongoing commitment to affordability and accessibility. The report commends those institutions which help transform student's life and family trajectory, and considers success rates of first-generation college students.
"Olivet has continued our ascent in the annual US News rankings, and considering all the challenges facing higher education these days, our students, faculty and alumni welcome this report," stated Dr. Steve Lowe, ONU Vice President of Academic Affairs. "The continued recognition across diverse academic disciplines affirms our commitment to excellence."
For more than 30 years, U.S. News & World Report's rankings and advice have served as a valuable consumer reference. U.S. News Best Colleges annual report provides nearly 50 different types of numerical rankings and lists to help students narrow their college search.