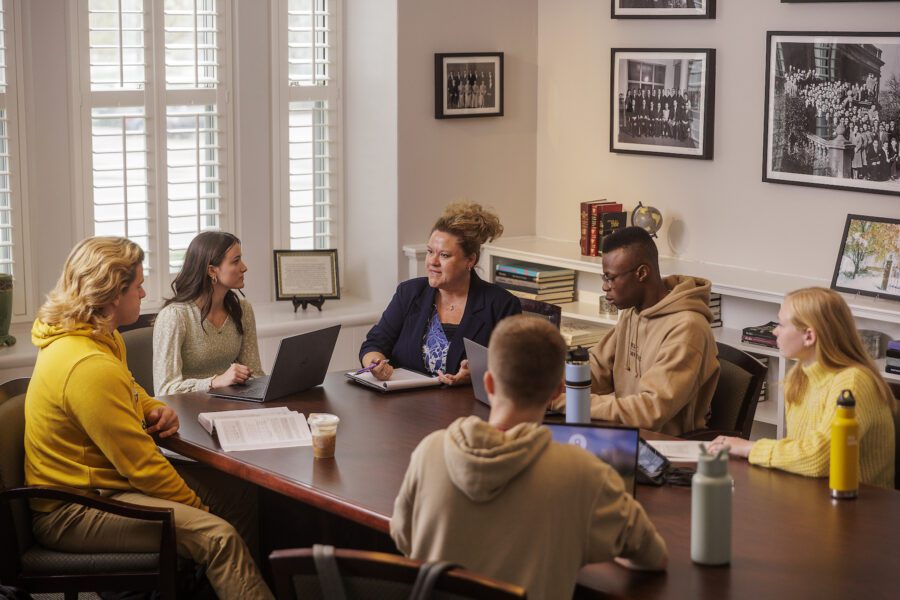 Olivet The Magazine: How important is it for students to know what they want to study before enrolling in college?
Amber Residori: I wish I had a megaphone and permission to walk the hallways of high schools everywhere so I could tell students, "You do NOT need to have a major picked before coming to college."
Students put a lot of pressure on themselves to have huge life decisions made before they come to college. I get it. College is expensive, and they don't want to waste time and money. However, not having a major does not mean you won't finish college on time. We want to reassure them that there is no need to panic, and we are here to guide them through the process of matching their beautiful distinctiveness to a meaningful profession.
Let's be honest: Choosing a career is important, and not many of us were ready to make that decision at 17 or 18 years old. However, each of us are blessed with unique gifts and talents, and there are careers that match our specific strengths. It is far more important for high school students (especially as they make college visits) to ask questions and understand how a university will walk beside them, guide them and help lead them through a process of finding their calling than to immediately commit to a major. Enroll in a college where you trust the adults to listen and guide you in finding your life's calling.
What advice do you have for high school students who are considering college as a postgraduation option?
Come visit our campus! The leap from high school to college can feel huge. We understand, and we want you to know you're not alone. You don't need to have everything figured out; you just need to take the next step. Trust your gut. Pay attention to how you feel when you're on a campus, and imagine yourself growing, learning and developing beside the students, professors and staff you meet during your visit.
We tend to idolize people who already achieved, made their mark and became something extraordinary. We see them as bigger than life — at least bigger than our own life. We admire their accomplishments and want to capture their unique qualities so that we can emulate their success.
Ironically, these role models would likely explain that they have not yet fully become. Instead, their unique quality is that they have never quit becoming. They have been mindful to capture valuable life lessons that were embedded within failure and success and within the mundane and the exciting.
You see, individuals who have truly become never settle. They stretch themselves so that they are constantly in the process of developing, improving and transforming. One of the greatest gifts we can give ourselves is ongoing learning, a commitment to stretching, and a life filled with intellectual, personal and professional growth.
What is the importance of a liberal arts education in finding a calling?
A liberal arts education is a blessing. It offers a comprehensive way of teaching young adults how to think — not what to think. A liberal arts education helps students be well-rounded individuals who know how to think because the holistic approach exposes them to an array of academic disciplines like the arts, humanities, social sciences, mathematics and natural sciences. It teaches students how to consider and integrate information through a comprehensive, well-rounded and educated lens of the world.
We want our alumni to find their calling and gainful employment after graduation. A liberal arts education offers a broad understanding of knowledge, enhances critical thinking skills, builds character, develops communication skills and equips students to solve complex problems. Employers want to hire individuals who have strong character and can think comprehensively, communicate well, consider alternatives when solving problems and work successfully within a team. A liberal arts education provides these skills and prepares students for a lifetime of becoming.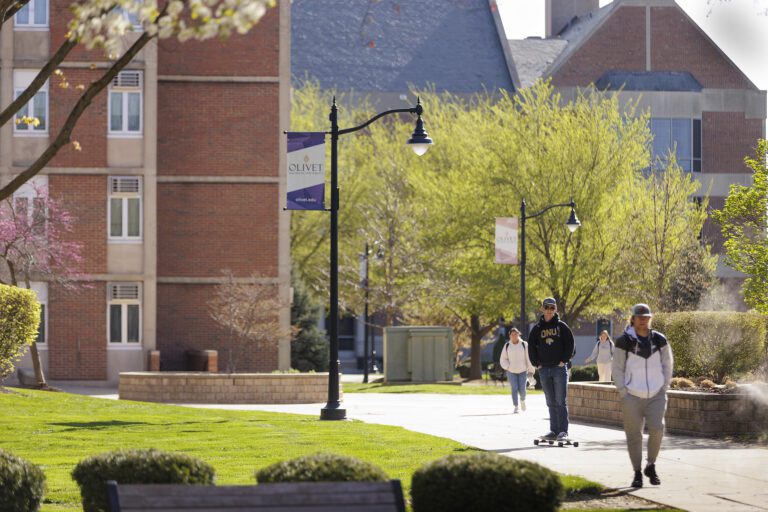 What makes Olivet stand out as a university?
There are so many qualities about Olivet that make us stand out. First of all, we care! Olivet is committed to helping our students in the process of becoming. We offer a relevant, current and cutting-edge educational experience within a connected, family-like atmosphere. We are proud of our strong academic programs and our reputation as a place for spiritual growth and discovery. We want our students to be challenged and stretched educationally, but we also want them to be challenged and stretched personally and spiritually.
Our students work beside faculty and staff who model service to Christ. We recognize that our students are relational and see faculty as mentors who lovingly teach them that becoming is not an overnight process. Instead, becoming emerges only after repeating, testing, trying, learning and then owning moments of character development. We know that college years are a key time in students' lives when they continue to clarify their values, morals and the lens through which they see the world. So our faculty interactions are intentional and dedicated to helping students develop and transform.
Our faculty members also understand that college students are not sustained merely by books. Instead, they are nourished by time spent with people they grow to admire and respect. In fact, becoming involves finishing strong every hour, every project and every opportunity. It means showing up — really showing up — with a commitment to excellence, integrity and service.
Our students become doctors, social workers, engineers, accountants, pastors and countless other careers while fulfilling dreams they may have imagined since childhood. But, more importantly, our students become men and women who lead, who are committed to ongoing growth, and who strive to glorify God as they serve professionally and personally.
What are some tools you use to help students figure out an area of study to pursue?
At Olivet, we start with a strong belief that each student has been blessed by God with gifts and talents that are unique to them. It is helpful to allow students the opportunity to explore who they are, what they enjoy, environments where they have thrived previously, and what they don't enjoy. There are also career assessments that students can take that provide insight into various occupations that align with their natural gifts and talents. In that process, they will naturally rule some out while simultaneously creating a short list of potential career choices. The beauty of a school like Olivet is that we offer almost any major a student might consider. Our array of offerings allows students the opportunity to take courses that expose them to various majors. And the great news is that all these courses count toward their graduation requirements, so this is not wasted time but informed decision-making.
It is beautiful to watch a student move across the spectrum from feeling overwhelmed and lost to feeling like a partner as we explore possibilities together and then, ultimately, to choosing a major and witnessing their confidence flourish. All of us benefit when we invite students into the process of discovering how God plans to take their gifts and talents into future careers. Becoming is a process, and we are grateful for the privilege of walking beside students as they realize how their unique qualities were designed by God to serve His Kingdom in incredible ways.
Dr. Amber Residori '93/'17 ED.D. is the dean of the College of Professional Studies and a licensed clinical social worker. She has worked extensively in residential treatment settings with youth and adolescents who struggle with emotional and behavioral disorders. She has a wide range of experience developing new programs, including outpatient therapy, transitional living and acute inpatient psychiatric hospital programs. She previously served at Olivet as a social work professor, as chair of the Department of Social Work and Criminal Justice, and as dean of the School of Life and Health Sciences.
From Olivet The Magazine, The Parent Guide – Summer 2023. Read the full issue HERE.