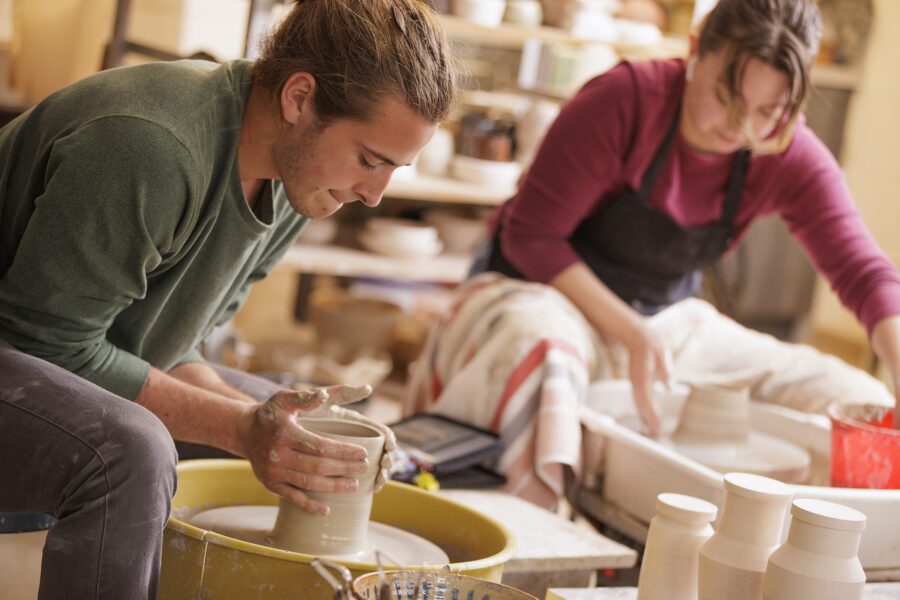 Relationships are central to making works of art. Consider the construction of a lifelike pencil portrait, a serene landscape photograph or an attention-grabbing package design. The relationship of parts to the whole matters whether working traditionally or with a new media piece; the formal and informal arrangements of elements and principles of art often make the difference between a work of significance versus the result of a weekend hobbyist. Of course, it is the relationships beyond the canvas or the screen that are of the most consequence.
The world of art thrives on the symbiotic relationship between seasoned artists and their apprentices. Throughout history, from Renaissance workshops to contemporary ateliers, mentorship has played a pivotal role in shaping artistic careers and nurturing creativity. In today's ever-evolving world, this tradition remains relevant as artists not only excel in their craft but also embrace the role of mentor to guide the next generation.
At Olivet students have the opportunity to discover mentors who dedicate their lives to serving God and their community through the Department of Art and Digital Media. The faculty occupy a unique position: They value a liberal arts education and how it can enhance artistic pursuits by fostering an environment of mentorship; they also hold advanced art degrees from a variety of public and private institutions. Profesor Koszut studied at the University of Denver and the School of the Art Institute of Chicago; professor Dombrowski in Georgia at the Savannah School of Art and Design; and Bill Greiner, professor emeritus, studied at the University of South Dakota. These diverse backgrounds offer unique perspectives in the classroom and aid in helping students prepare for and reach varied artistic goals beyond Olivet.
Artistic apprenticeship has a rich history dating back centuries, when young artists learned from established masters in an intimate setting. The apprentices observed, imitated and gradually developed their own style under the guidance of their mentors. This traditional approach allowed aspiring artists to acquire technical skills, learn about artistic principles and gain exposure to the art world.
Today, while the structure of apprenticeships may have evolved, the essence of mentorship remains intact at Olivet. Established artists understand the importance of sharing their knowledge and experiences to inspire and guide young artists.
Through mentorship, they provide valuable feedback, critique and practical advice that help budding artists navigate the complexities of the art industry and find their unique voice. Olivet is a Christian liberal arts university that provides fertile ground for nurturing artistic talent, regardless of whether students are formally studying art. The interdisciplinary nature of liberal arts encourages students to explore various subjects, fostering creativity and critical thinking skills that greatly enhance their artistic pursuits.
By studying a broad range of disciplines such as literature, philosophy, history and science, students gain a multifaceted understanding of the world. This knowledge informs their art, allowing them to develop unique perspectives and create work that is meaningful. The ability to draw inspiration from diverse sources contributes to the richness and depth of their artistic expression. Professors at Olivet walk alongside students, sharing their wisdom to help them apply new technical skills and knowledge rooted in a Christian worldview.
Moreover, a liberal arts education fosters collaboration and the exchange of ideas among students from different majors. Artists benefit from interacting with individuals pursuing various disciplines, gaining fresh insights and broadening their creative horizons. This cross-pollination of ideas often leads to innovative and thought-provoking artistic endeavors.
At Olivet, where the student-to-faculty ratio is 14:1, the intimate class setting provides a conducive environment for mentorship to thrive. The term pracademic aptly describes the professors at Olivet who blend practical experience with academic expertise. This combination enables them to mentor students effectively, fostering a close relationship that goes beyond the traditional student-teacher dynamic.
The benefits of a small class setting extend beyond formal art instruction. Students from various majors can access close mentorship from professors who possess a wealth of knowledge and experience in their respective fields. These pracademic professors serve as valuable guides, helping students navigate their chosen paths and providing insights into the practical aspects of pursuing their artistic passions.
As chairman of the Department of Art and Digital Media, I have a unique view of this process as it unfolds at Olivet. Having graduated from Olivet's art program as an undergraduate, I can attest that the mentorship I received changed the course of my life. Working as an art educator with both high school and college-aged students over the past 20 years while simultaneously pursuing advanced degrees in art, I oscillated between being a student and a teacher, and between mentee and mentor, and I am immensely grateful for the experiences of both. Today a great joy in my life comes from instructing and mentoring college art students!
Good mentors invite others to join in the creation process. Motivated artists and educators, driven by their passion for creating, inspire others to create as well. The best mentors provoke creativity in others and challenge students to take measured and spontaneous risks. Both academia and making art involve calculated risks and the willingness to embrace one's calling. The art professors at Olivet encourage students to challenge the status quo, to imagine new and exciting ways to respond to the world around them, and to bring others along in the discovery. That is the kind of art education we can all learn from.
From Olivet The Magazine, The Parent Guide – Summer 2023. Read the full issue HERE.