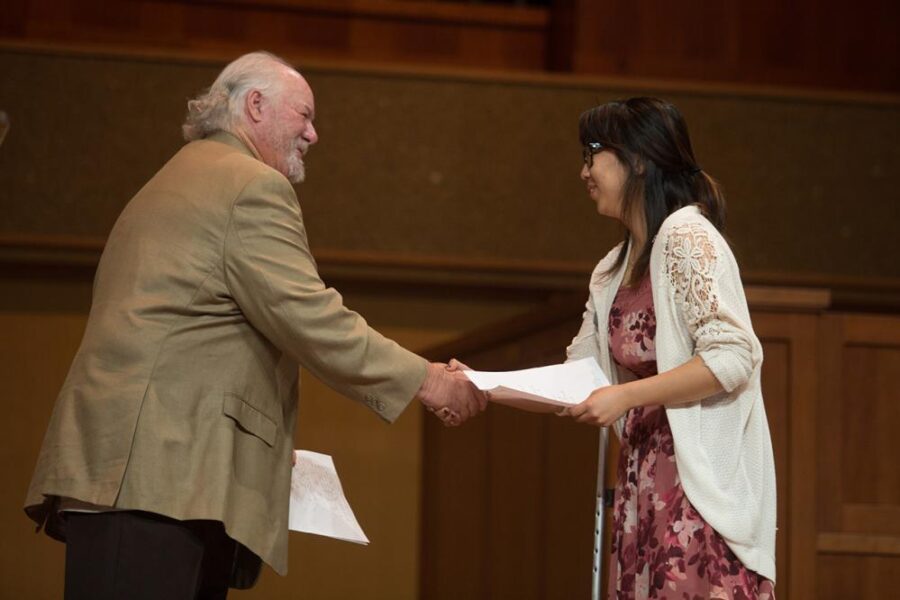 Olivet Nazarene University's School of Theology and Christian Ministry (STCM) is pleased to congratulate Esther Paek on receiving the 2017 Sylvanus Carter Homiletics Award. She is a senior, majoring in religious studies and computer science, from Richmond, Virginia. During Olivet's chapel service on April 20, 2017, Esther received the award from Dr. Mark Quanstrom, STCM dean.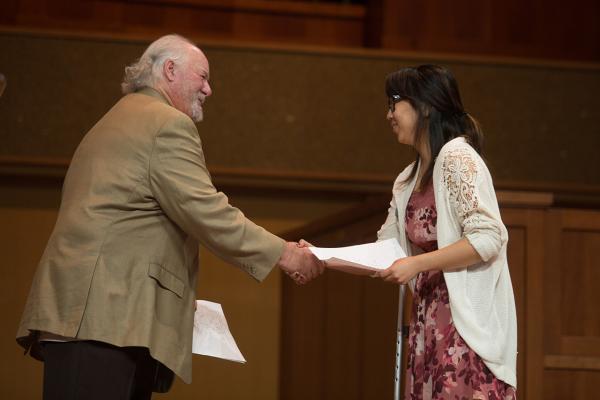 Seniors Connor Berg and Brendan Shea were also finalists for this award. Both received scholarships and were recognized during chapel.
Each participant in the competition for this award researches, writes and submits the manuscript of a sermon that he/she has prepared. Next, selected participants deliver their sermons to an audience. Each sermon is rated on exegesis of scripture, focus and relevance for the audience who will hear it, as well as the participant's delivery of it. Three finalists are then chosen to receive scholarships, and one of those is designated as recipient of the award. STCM Professor Jason Robertson serves as chair of the selection committee.
"We are grateful for Dr. Stephen and Donita Carter's generosity that makes these scholarships possible," Professor Robertson says. "The process of evaluating the sermons of our students and working with them as they grow as preachers is a highlight of our year. We couldn't be more proud of our three recipients this year. Not only did they write and deliver excellent sermons but each embodies the values the School of Theology and Christian Ministry seeks to foster in our students."
Esther Paek, Olivet's VP for Spiritual Life, has served as a freshman and sophomore class chaplain, resident assistant, Preaching Ambassador and youth ministry volunteer at College Church of the Nazarene, Bourbonnais, Illinois. She has served on three mission trips to the Dominican Republic. She also plays Ultimate Frisbee with the Lady Penguins and has run the Chicago Marathon twice with Team World Vision. After graduation, she plans to intern with Compassion International as a database administrator and pursue a Master of Arts in Religion degree at Olivet. Her hope is to pursue her calling in social justice and urban ministry by continuing her education and investing in local church ministry.
Esther's award-winning sermon, "Honest Christianity," included her personal testimony, her call to ministry and the value she places on honesty. "One of the biggest struggles in society is honesty," she said. "Whenever we make a mistake or feel like something weakens our case, we usually try to cover to it up. I also believe one of the biggest struggles in the church today is honesty. How often do we hide doubt? Whether we admit it or not, Christians doubt."
Connor Berg, a pastoral ministry major from Mount Airy, Maryland, has served as a resident assistant, a chaplain for Proclamation Gospel Choir, a Preaching and Music Ambassador, and a small group leader at College Church of the Nazarene. He is planning to pursue his Master of Divinity degree.
Brendan Shea, also a pastoral ministry major from Mount Airy, Maryland. He is a leader of the Preaching Ambassador Program and is actively involved at Chicago First Church of the Nazarene. He has served with Mission Possible prison ministry and Fellowship of Christian Athletes. He has completed internships with Grace Harbor Church of the Nazarene and Richland Center Church of the Nazarene, both in Wisconsin. During his freshman year at Olivet, he was a member of the Tiger men's swim team and competed at NAIA Nationals. After graduation, he will pursue his Master of Arts degree in family ministry, work full time as an admissions counselor in Olivet's School of Graduate and Continuing Studies, and marry his fiancée, Arika Schmitt '16.
The Sylvanus Carter Homiletics Award was established by Dr. and Mrs. Stephen Carter in honor of Stephen's father, Rev. Sylvanus Carter — a pastor in the Church of the Nazarene for 56 years. Rev. Carter's life and ministry modeled a strong commitment to preaching and pastoral care.
To learn more about Olivet's areas of study in ministry and theology, contact the Office of Admissions at admissions@olivet.edu or 800-648-1463.