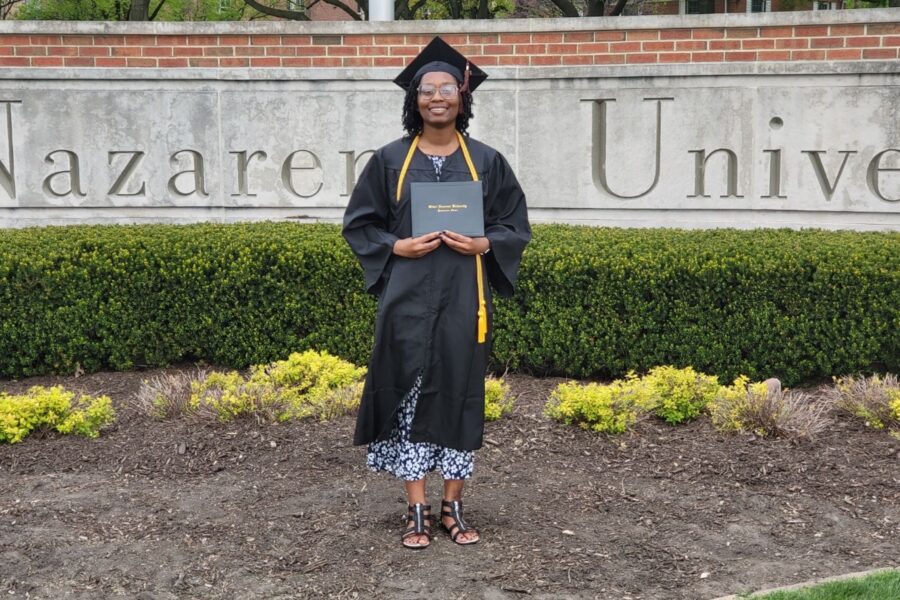 Earning a bachelor's degree at Olivet Nazarene University can be the first step into a life filled with promise and success. Many students take the next step of earning a master's or doctorate degree while others head straight into a job to start their careers.
Olivet The Magazine recently spoke with six outstanding young alumni who are continuing to pursue a higher purpose as they build on the experiences of their higher education.
Sierra Harris '23
Major: Studio Art
Masters of Arts in Counseling: Art Therapy, Adler University
Sierra Harris has always enjoyed the symbolism of cogs and gears in a machine — seeing the small things work together in the background contributing to something bigger. She had always thought of herself as a cog: someone who would never be seen but would find ways that her calling fit into God's greater mission. She quickly realized that God's mission and calling for her life would bring her out of the background and into the unknown of exciting opportunities.
In her senior year at Olivet, Sierra was challenged to step out of her comfort zone. During her Personal Visions class, she had been tasked with reating a series of works for her senior art show, and Sierra decided to create a children's book, Lucy's Anxiety, which allowed her to share about the difficult topic of anxiety and mental health in an illustrative and age-appropriate way. The creation of this book led to incredible professional opportunities for Sierra. She presented her work to former second lady Karen Pence, winner of Olivet's 2023 Maggie Sloan Crawford Award, and also competed in the University's inaugural Createur conference and pitch competition.
"Overall, my time at Olivet was spent preparing — slowly building confidence, community and faith," she says. "How do I begin to express my gratitude? I am blessed to be here. I learned that I am not just a cog. I can also be a machine."
Sierra will continue to highlight mental health awareness among children through her business, KMH Series, LLC. Over the next few years, she will attend graduate school at Adler University to pursue a master's degree in counseling focused on art therapy.
From Olivet The Magazine, Strength & Hope – Autumn 2023. Read the full issue HERE.