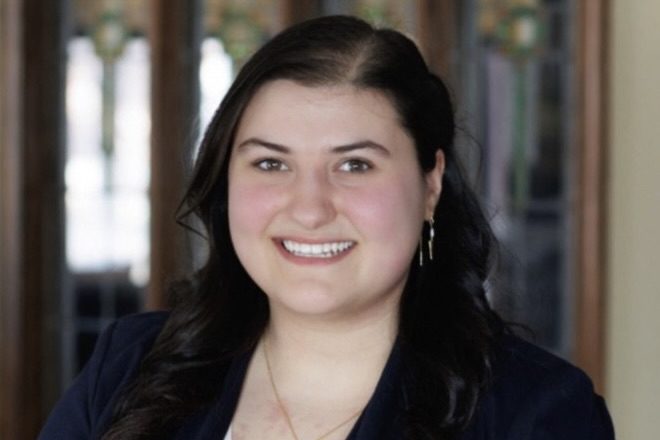 Earning a bachelor's degree at Olivet Nazarene University can be the first step into a life filled with promise and success. Many students take the next step of earning a master's or doctorate degree while others head straight into a job to start their careers.
Olivet The Magazine recently spoke with six outstanding young alumni who are continuing to pursue a higher purpose as they build on the experiences of their higher education.
Lily Jarzabkowski '21
Majors: Political Science and Philosophy; Minor: Legal Studies
Juris Doctor (J.D.), College of Law, DePaul University
Lily Jarzabkowski always knew she wanted to attend a graduate program after her time at Olivet, but her coursework helped her realize her passion and interest in the legal field. In her time at Olivet, Dr. David Van Heemest '96 M.P.C./'98 M.A. and Dr. Kevin Twain Lowery were especially influential on her learning philosophy and served as voices of encouragement in her pursuit of continuing her education.
"My time at Olivet helped me to realize volunteerism and service do not need to be separate from my professional career," she says. "The opportunities that I had at Olivet were instrumental in guiding my understanding of using the gifts God has given me in leading and serving others professionally."
Following her Olivet experience, Lily decided to attend DePaul after learning about the school's strong commitment to pro-bono work and public interest service in Chicago. As part of the school's international law program, Lily completed a study-abroad experience in Geneva, Switzerland, where she was able to meet with intergovernmental leaders at the United Nations and many nongovernmental organizations throughout the city. Following her graduation in May, she will serve as an associate attorney in the Chicago suburbs.
"I have been impressed with the quality of not just my academic education but DePaul's holistic approach to education," she says. "Through their rigorous programming and coursework, students are stretched to expand their legal knowledge and professional development skills. I look forward to my career as a lawyer which will provide me with the opportunity to help others through difficult conversations and stages of life."
From Olivet The Magazine, Strength & Hope – Autumn 2023. Read the full issue HERE.