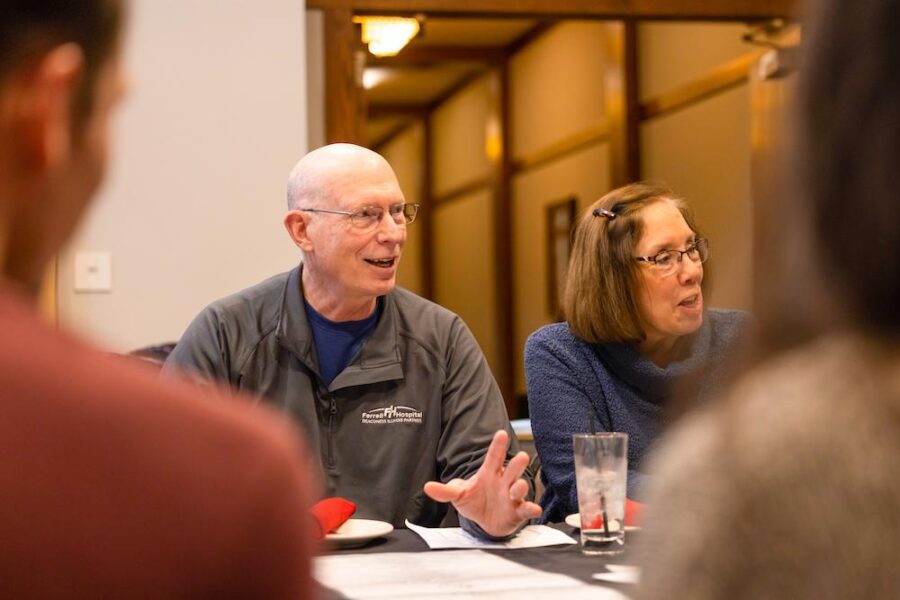 "Gathering around a table and sharing a meal together is my favorite way of staying in touch with former students," says Mike Pyle, MD, retired professor and former chair of Olivet Nazarene University's Department of Biological Sciences. "I still communicate with students who graduated from ONU during my tenure, 2008-2022. Part of my motivation is to keep them connected to ONU for the benefit of current students.
Dr. Pyle and his wife, Nancy — retired professor and retired program director in ONU's School of Nursing — have long had a heart for connecting with students. Their goal is to build and nurture relationships that extend beyond the classroom experience. Dr. Pyle especially enjoys being just a phone call, email or visit away as he mentors alumni, prays for them and with them, answers their questions and encourages them in their careers.
The Pyles do road trips just to catch up over dinner on the lives and careers of ONU alumni. Recently, they made a trip to Chicagoland to meet with young alumni. "We invited seven young alumni to join us," Dr. Pyle says. "They are at various points on their journey to become surgeons. Not everyone could break away from their busy schedules, but those who did enjoyed a good meal and great conversation."
In summer 2021, they visited with seven different young alumni while on a road trip to Bethany, Oklahoma. One stop was in Tulsa to meet with Audrey (Mikhail) Harris '13, MD (internal medicine), and her husband Marshall Harris '14, MD, who is finishing a radiology residency. "We have a particularly special connection with Audrey and Marshall," Dr. Pyle says. "I presided at their wedding in 2016!"
"One of the most gratifying aspects of our 14 years at ONU are these relationships that last beyond graduation," Dr. Pyle says. "Our students have become our friends and colleagues. I know this is true when they ask me, 'Do I call you Mike or Dr. Pyle now?'"
Putting knowledge to work
While at ONU, Dr. and Mrs. Pyle led summer medical mission trips to Kudjip Nazarene Hospital in Papua New Guinea. They will once again lead a trip in May 2023. On each trip, the Pyles share their medical knowledge and experience, but more importantly, they also nurture God's call to mission — whether that be local or abroad. They fully believe that "Crossing the sea doesn't make you a missionary. Seeing the cross does."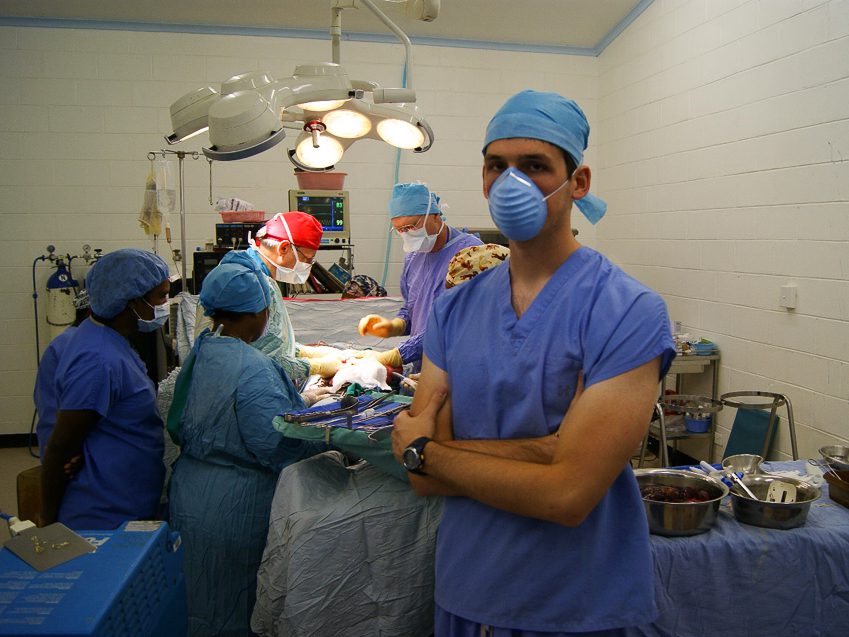 Brian Ginn '14, MD was part of the first large student mission team the Pyles led in 2012. During that Papua New Guinea trip, God confirmed Brian's call to medicine and unfolded a vision for a career in full-time medical missions. Today, he is a chief resident in general surgery at Ascension St. Joseph Hospital in Chicago. His many responsibilities include inpatient/outpatient care, surgery, scheduling, surgery on-call, and teaching junior resident and medical students.
"At ONU, I didn't take just science courses," says Dr. Brian Ginn. "I enjoyed the liberal arts and multi-disciplinary aspect that made me a well-rounded individual. I had incredible science professors who taught me to think, ask questions, and be eager to learn rather than just memorize and repeat information. The integration of faith and science, where one contributes to the other rather than discrediting it, led me to have a stronger faith and a stronger scientific foundation."
Dr. Brian Ginn is married to ONU alumna Abigail (Helmker) Ginn '13, DO. After completing a residency in pediatrics, she is currently doing a fellowship program in hospice and palliative medicine at John H. Stroger Jr. Hospital of Cook County in Chicago.
"Participating in a medical-focused mission trip to Zambia while at ONU ignited my passion for medical missions," says Dr. Abigail Ginn. "My husband and I, along with our son, will be moving to Papua New Guinea in 2023 to work at Kudjip Nazarene Hospital for the next two years. This is a post-residency program through World Medical Mission. We are so grateful for God's faithfulness. We are excited to see how He will use our medical training to benefit the people there."
Another ONU alumna, Ashley Qualls '20 was also deeply affected by a medical mission trip experience while at ONU. Currently, she is completing her second year of medical school at the University of Illinois College of Medicine in Rockford, Illinois. She is preparing to take part one of her medical board exams soon. She is also president of the surgery club and recently Zoomed a club conversation with Dr. Pyle.
Between her junior and senior years at ONU, Ashley was part of the ONU student mission team to Papua New Guinea. "That is the most memorable educational experience of my undergrad years," she says. "On that trip, I learned what being a physician looks like. As I scrubbed in and shadowed Dr. Pyle in surgery, he explained anatomy and every step of the surgery to me."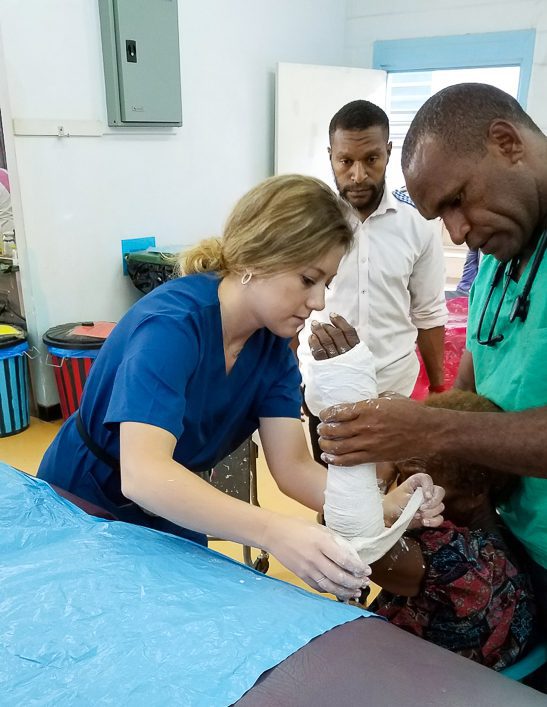 Meeting challenges with determination
The Pyles have walked with many ONU graduates as they turned their challenges into success stories. Following are just a few of the many Dr. Pyle recalls.
Kristen Wilson '10: "Kristen applied to medical school during her senior year at ONU but wasn't accepted. She took a job, studied consistently, and retook the Medical College Admission Test (MCAT) three years later. She achieved an outstanding score and was accepted to four different medical schools."
Sydni Boswell '20: "A local resident, she worked three different jobs concurrently to pay her way through ONU. She was chronically sleep deprived and slept in her car between classes. Yet, she was a joy.  Today, she's in medical school!"
Shanynn Santos '17:"A talented gymnast, she overcame injuries to win a national championship as a diver with ONU. While a medical student, she found time to live her dream as a coach in Simone Biles's gym. On a recent rotation, her attending surgeon called her the best medical student he'd ever had! She's a veteran of one of our student mission teams to Restoration Gateway in Uganda."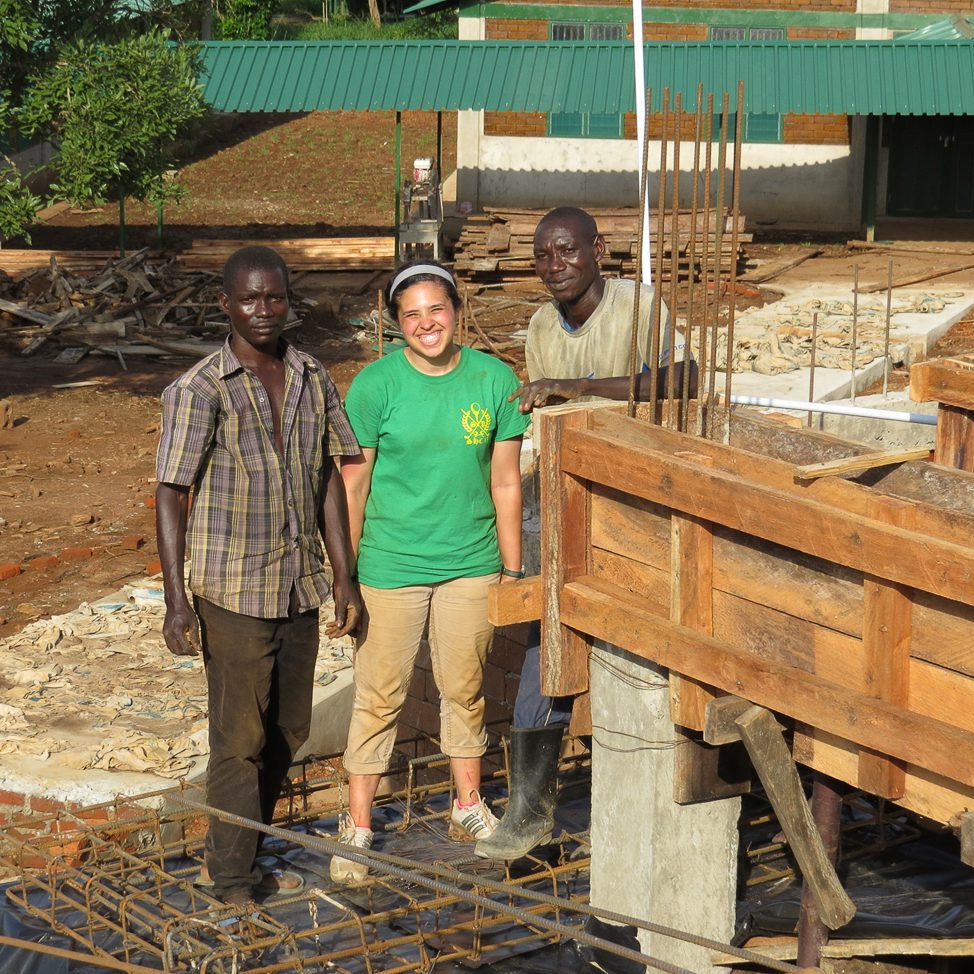 The Pyles continue to be encouraged by two ONU graduates who are now medical professionals. "Darlene Fiedler '13, a veteran of two of our mission teams to PNG, overcame major financial, personal and family issues to go to medical school," Dr. Pyle says. "She is now in her first year of surgery residency alongside former ONU quarterback, Zack Gross '17. Zack required extensive rehab for a major terrible knee surgery and recovered to play his senior year, all the while excelling academically."
"We often find that our ONU graduates are successful in medical school and their careers because they have the social strengths and altruism that many others in their profession don't have," Dr. Pyle says. "And it's very common for me to hear from them, in their first or second year of medical school, that they are better prepared academically than their peers from 'prestigious universities.'"
Encouraging others along the way
Recently, Ashley Qualls spoke with potential pre-med students who were considering ONU for their undergrad education. "I shared with them that when I entered medical school, I had a greater breadth of knowledge than those who had graduated from Ivy League schools," she says. "While at ONU, I had a cadaver dissection class, a toxicology class, and even surgery experience that helped lay my foundation for medical school. When I entered medical school, I already had knowledge that other students won't get until our third year of medical school."
"Dr. Pyle is a person our ONU pre-med alumni want to stay in touch with," she adds. "He is a person we all look up to. He challenges us to be better people and better physicians."
Whenever Dr. and Mrs. Pyle host alumni for a meal and conversation, the implied admonition is: "Pay it forward. We're sharing this time with you today, and we hope you will do the same for ONU students coming behind you."
To learn more about Olivet's undergraduate and graduate degree programs, contact the Office of Admissions at admissions@olivet.edu or 800-648-1463.
Published 5/24/2023
LW