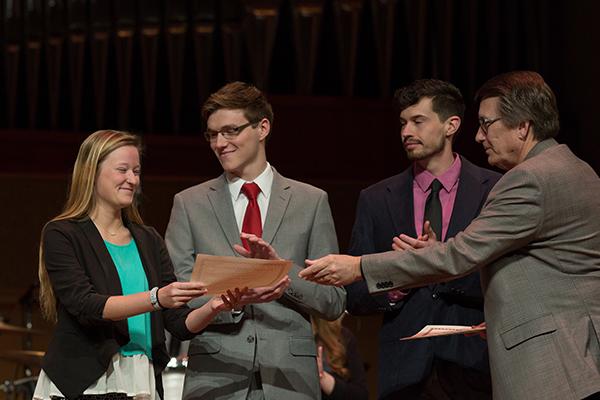 Olivet Nazarene University's School of Theology and Christian Ministry (STCM) is pleased to congratulate Hannah Jones on receiving the 2018 Sylvanus Carter Homiletics Award. She is a 2018 graduate with a degree in youth ministry and is from Olathe, Kansas. During Olivet's chapel service on April 25, 2018, Hannah received the award from Dr. Mark Quanstrom, STCM dean.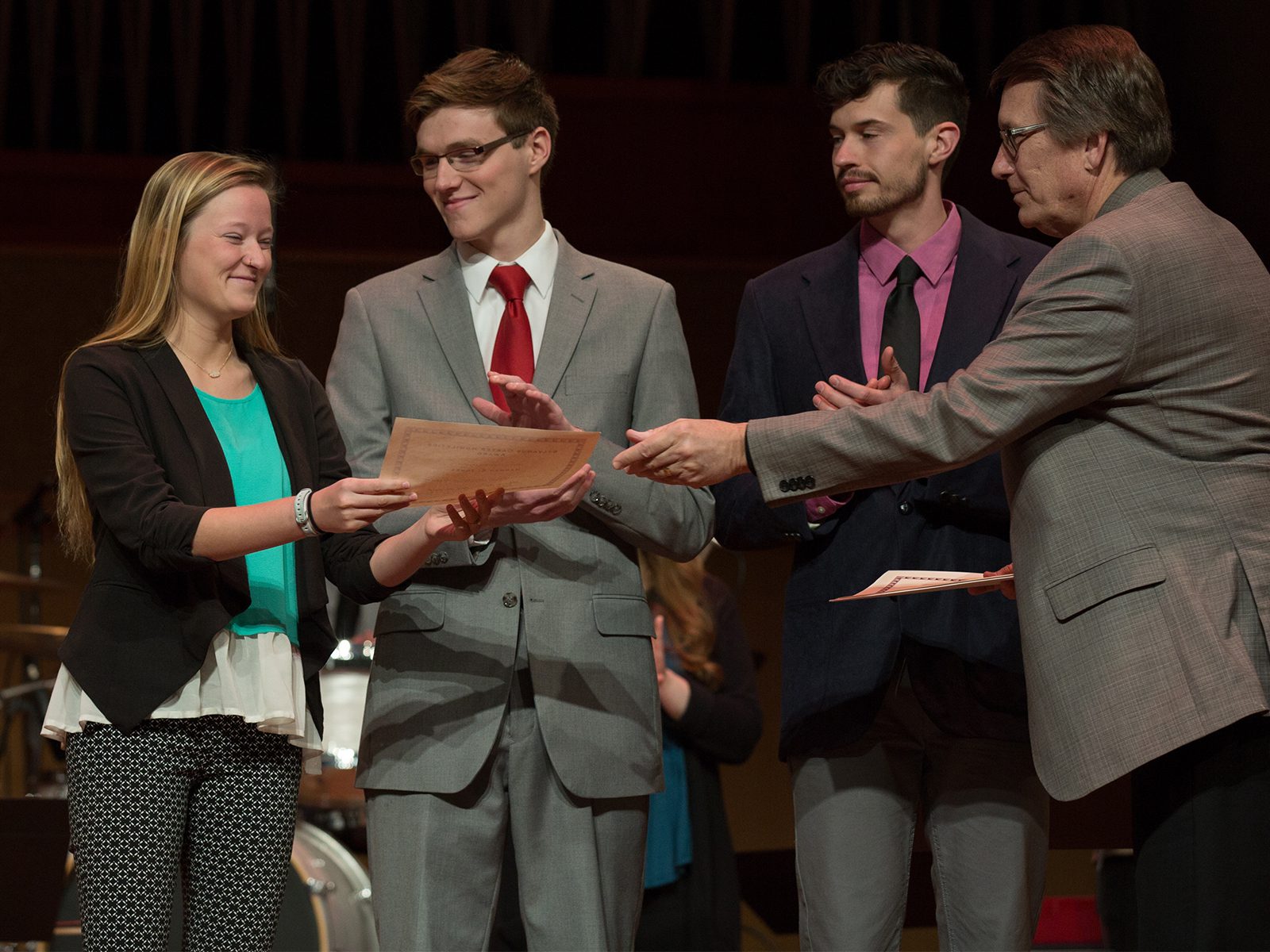 Marcus Winters and Jacob Arnold — 2018 graduates — were also finalists for this award. Marcus majored in pastoral ministry and is from Milton, Wisconsin. Jacob majored in ministerial missions and is from Saint Peters, Missouri. Both received scholarships and were recognized during chapel. 
Each participant in the competition for this award researches, writes and submits the manuscript of a sermon he/she has prepared. Next, selected participants deliver their sermons to an audience. Each sermon is rated on exegesis of scripture, focus and relevance for the audience who will hear it, as well as the participant's delivery of it. Three finalists are then chosen to receive scholarships, and one of those is designated as recipient of the award. STCM Professor Jason Robertson serves as chair of the selection committee.
"We are grateful for Dr. Stephen and Donita Carter's generosity that makes these scholarships possible," Professor Robertson says. "The process of evaluating the sermons of our students and working with them as they grow as preachers is a highlight of our year. We couldn't be more proud of our three recipients this year. Not only did they write and deliver excellent sermons but each embodies the values the School of Theology and Christian Ministry seeks to foster in our students."
The Sylvanus Carter Homiletics Award was established by Dr. and Mrs. Stephen Carter in honor of Stephen's father, Rev. Sylvanus Carter — a pastor in the Church of the Nazarene for 56 years. Rev. Carter's life and ministry modeled a strong commitment to preaching and pastoral care.
To learn more about Olivet's areas of study in ministry and theology, contact the Office of Admissions at admissions@olivet.edu or 800-648-1463.
Published: 5/15/2018