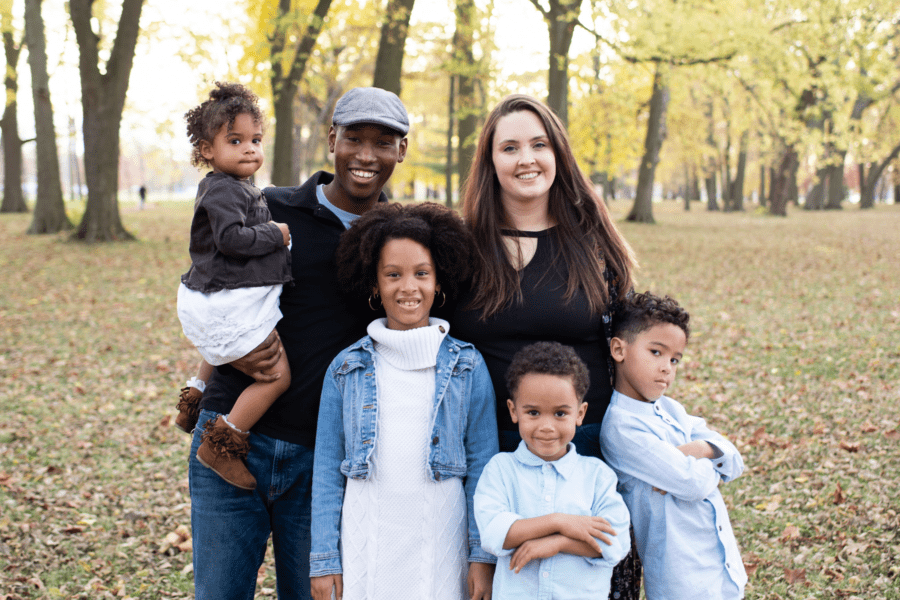 Travis Smith '12 doesn't know when he joined a gang — unbelievable as that may seem. He grew up inundated with the influence of gang activity in the Cabrini-Green housing projects of Chicago, where children under the age of 10 often get recruited.
He had a supportive mother and extended family circle who did their best to encourage him toward a more positive life trajectory. But, as Travis remembers, his father actively avoided interacting with him — a significant relationship unraveling that had a profound impact on his self-worth and his concept of family.
Living the life of a gang member, he was on a path to ruin — until the day he randomly wandered into a building in his neighborhood. The building housed a new Christ-centered after-school organization, By the Hand Club for Kids. Upon entering, Travis was greeted by Donnita Travis, the club's founder.
"I went to shake her hand, and she hugged me," Travis recalls. "It was a pivotal moment in my life. On the other side of the building, drugs were being sold, but, here, people were serving Jesus. They gave me a tour of the facility, and I left with the realization that people who didn't know me seemed to value me more than I believed in myself. They had a different life in Christ than I was used to, and I was compelled to find out more."
Since its inception, By the Hand has provided services for children to address their needs from a holistic perspective: body, mind and soul, based on John 10:10. When Travis first discovered the club, activities were only available for children in the third through sixth grades, but he eventually joined as a junior leader.
Although he was surrounded by Christians who displayed the love of Jesus, his complete life transformation didn't happen overnight.
"Before starting to live an abundant life, I was living a double life," he says. "I was of two minds: the community life of a gang and the community life I saw modeled at the club."
The choice to attend a By the Hands Teen Church service instead of a gang member party one Friday evening gave Travis the breakthrough he needed.
"I don't remember the message from that night," Travis says. "But I do remember God saying, 'You're watching people live for Christ on the sidelines; get in the game.'"
The following Monday, it was game time.
"I knew that if I was serious about Jesus, I needed to leave the gang immediately," he remembers. "During a break between summer school classes, with my Bible in hand, I approached one of the gang leaders. I said with a confidence that could have only come from God, 'I'm leaving the gang to follow Christ, and I invite you to join Team Jesus.' He stared at me with such direct eye contact, it felt as though he searched my soul. Finally, he said, 'Everybody, listen up.' His words silenced the hallway. 'Tray-Dog is living for Jesus. Don't nobody mess with him.'"
That conversation gave Travis his first taste of his divine calling: to be a Christian encourager. Throughout the rest of high school, that same gang leader encouraged people to inquire about Travis' life transformation. These conversations led to several people making their own decisions to follow Christ.
His new enthusiasm for life was infectious to the people around him, yet Travis still struggled to fully embrace the wholeness of God's grace. It was a seemingly serendipitous interaction with a classmate that opened the door for a new phase of his personal and professional development.
"My friend Jesse brought an Olivet brochure to school on senior skip day," he says. "We were two of the few seniors who didn't skip. I had never heard of Olivet but was interested enough to call the admissions office. Before I got off the call, I told the admissions counselor, 'I believe I belong at Olivet.' I honestly had no idea that was a well-known Olivet phrase. I just firmly believed this was where God wanted me to be."
Because of his active ministry at home, Travis almost didn't go to Olivet. But God had made it clear that while Travis was pouring out himself to others, He wanted to pour into him. So, he enrolled to study graphic design and got involved in campus activities and ministries.
"Looking back, I see how God established so many relationships I didn't know I needed to grow spiritually — but also mentally, physically and emotionally," Travis says.
At Olivet, Travis met faculty, staff and other students, including his wife, Karissa (Cantrall) '15, who played a significant role in revising his view of the meaning of family. They have now been married 10 years, and it has been 20 years since Travis made a public declaration to follow Christ. To commemorate God's faithfulness in their lives, Travis and Karissa wrote a "Declaration of Dependence on Jesus," inspired by Joshua 24:15, and have started to share it with others.
"God gave me the idea of a family document when I was dating Karissa, but I rejected it at the time," Travis says. "I was afraid of the word legacy. I had welcomed God in my spiritual life, but I didn't know how to depend on Him in other aspects. It took years to understand what God was asking of me, but I can see it now with greater clarity."
What started as Travis's private profession of faith in a teen church service evolved into restored images of self-worth and family dynamics, and it has paved the way for an unexpected movement of encouraging others to follow Christ.
"I can't help but share Jesus with others," Travis says.
To read the Smith family's "Declaration of Dependence on Jesus," click here.
Travis is a part-time resident director at Olivet. He also works for Life University and serves on the board of By the Hands Club for Kids. He and Karissa live in Bourbonnais with their four children: Zariah, Ezekiel, Hezekai and Hazel.