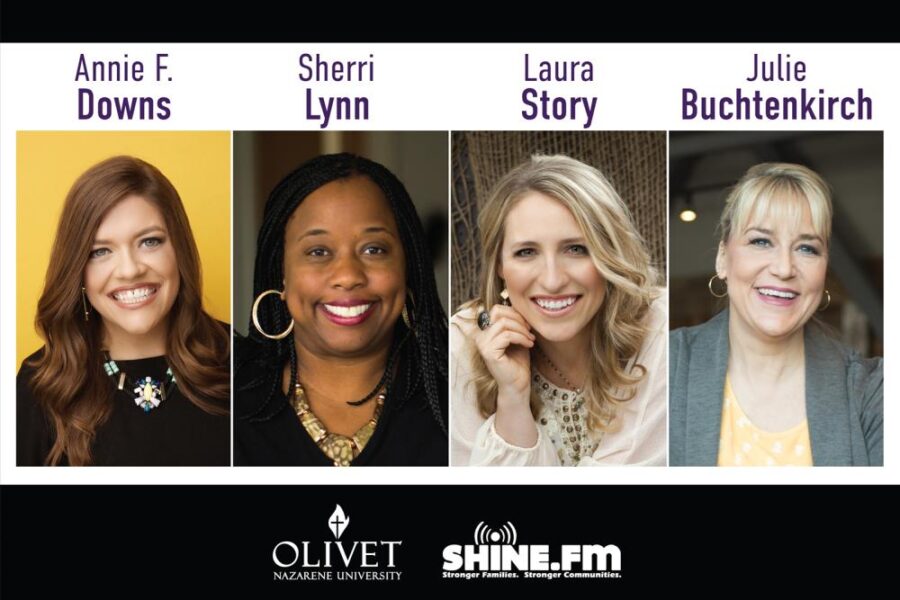 Hosted by Shine.FM, a broadcasting ministry of Olivet Nazarene University, the annual Ladies' Day program brings together the best in Christian teaching and music to provide hope, encouragement and inspiration for women.
This year's program will take place from 9 a.m. to 3 p.m. in Centennial Chapel on Olivet's campus. Shine.FM on-air personality Sherri Lynn will serve as emcee.
Tickets will be available for purchase online at Chicago.Shine.FM. For more information, call 800-648-1463 or email shine@olivet.edu.
Annie F. Downs is a best-selling author, nationally known speaker and podcast host based in Nashville, Tennessee. Some of her best-selling books include Remember God and 100 Days to Brave, based on personal stories, humor, and scripture. She uses her writing to highlight the everyday goodness of a real and present God. Her podcast, "That Sounds Funny," hosts conversations with authors, pastors, musicians, comedians, chefs and athletes, all of whom she considers a good friend.
Laura Story is a contemporary Christian singer, songwriter, author and mother of five from Spartanburg, South Carolina. Her album, Blessings, debuted at No. 2 on Billboard's Christian Albums in 2011, with the first single of the album winning a Grammy Award and reaching No. 1 on Billboard's Christian Songs chart.
After her music career took off her husband, Martin, was diagnosed with a brain tumor. Laura then began writing not only music but books as well, and released a 30-day devotional titled, What If Your Blessings Come Through Raindrops? 
Julie Buchtenkirch, inspirational speaker and teacher, shares the eternal truths of God's word in relation to her own personal stories with a sprinkle of humor. Julie ignites people's passion for a Christ-centered life in order to remind them that freedom, hope and joy are always within reach. Julie currently serves on the Teaching Team at Crosspoint Church in Fishers, Indiana.