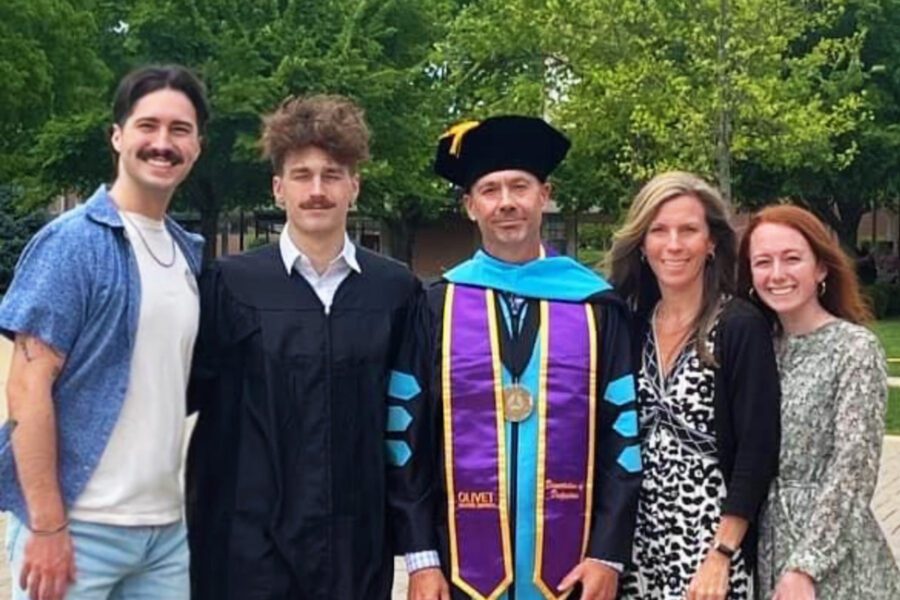 There is something special about a story or place that doesn't just impact one person but, ultimately, an entire family. This type of impact leaves a legacy. It's something that the Thornhill family — Dave '23 Ed.D., Erica and their children, Jackson '20/'22 MBA, Carter '23 and Reagan, a current senior — can attest to when it comes to their experiences at Olivet.
The Thornhills' legacy at Olivet stretches across several generations. Dave's father, Rev. Paul Thornhill '81, and several aunts and uncles attended Olivet. From stories and experiences shared about their time on campus, Dave knew that Olivet would be an influential place for his family.
"Family members that I trust, trusted Olivet to help them grow intellectually, personally and spiritually," he explains. "It is because of their trust that I knew I could do the same when it came to myself and my family."
After moving to Indiana in 2013, the Thornhills lived in the Olivet educational region, which meant more interactions with the University, especially through Celebrate Life, Red Carpet Days, General Assembly and Nazarene Youth Conference.
When it came time for Jackson, Carter and Reagan to start looking at colleges, Olivet was at the top of the list. Looking back at his college decision process and his experience as a former admissions counselor for nursing students at Olivet, Jackson said exposure to the University played an instrumental part in his choice.
"Familiarity is key," Jackson says. "When other people in the family have a good experience, it is very convincing to come take a visit to see what it is all about. Going up to visit each other strengthens the love for the campus and its community."
And that is exactly what happened. All three of the Thornhill kids visited Olivet and enrolled because of the welcoming environment and the opportunities that Olivet provides to each student. While the campus community was smaller than maybe other schools on their list, they saw the potential for more interaction and intentionality with their professors; greater on-campus involvement; and increased networking experiences.
"Despite the smaller size of ONU, the campus gave us each the opportunity to be our own people with our own activities, groups of friends and areas of study," Reagan says. "If I ran into my brothers on campus, it was a fun surprise."
In reflecting on their Olivet stories, Jackson, Carter and Reagan all agree that their Olivet experience would not be complete without the influence and intentionality of their mentors and professors.
"With each activity that we were involved in, amazing mentors came with it," Carter says. "Whether it was serving as a resident assistant and having guidance from a resident director; or playing soccer and having the coach become a friend; or having the theatre director become a close mentor and teacher, each extracurricular naturally provided all of us with someone who led and supported us throughout our college careers."
This past spring, the family celebrated as Carter graduated with his undergraduate degree and Dave completed an Ed.D. in organizational leadership from Olivet. Jackson, who earned a Master of Business Administration degree from Olivet in 2022, was recently appointed as the director of digital communications at the University. Reagan will graduate next May with a bachelor's degree in biology, which will provide a solid foundation for her next step of dental hygiene school. While each of their experiences has been different, the impact of and love for Olivet is a common thread.
"Each of us has had a very positive experience at Olivet," Dave says. "Our family strongly believes in Christian education and, in so many ways, Olivet exceeded our expectations. I always wanted my kids to be able to grow spiritually as well as intellectually, and they certainly did during their time here. And we got to experience that with them. With all the opportunities everyone had, it gave us chances to come up and support their games, shows and concerts, which ended up bringing all of us together for quick but special moments."