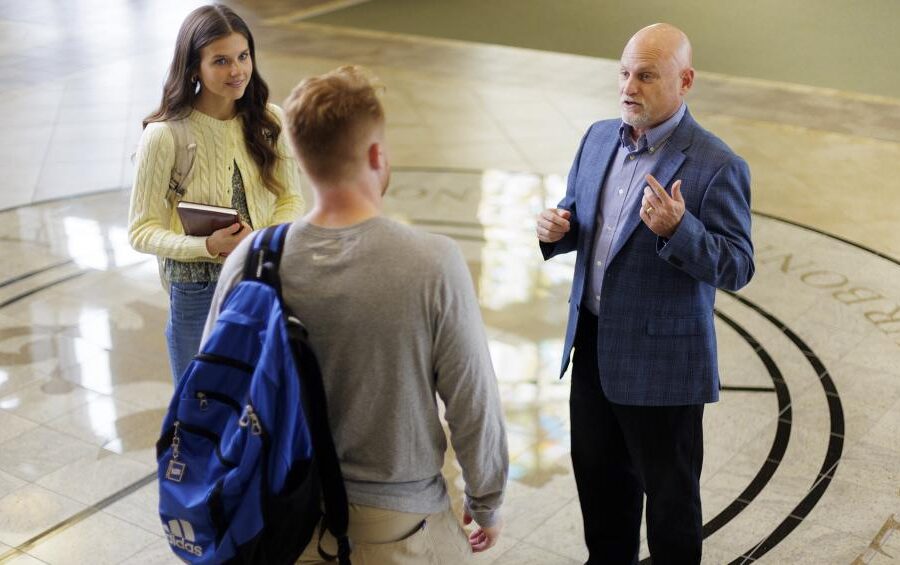 Olivet Nazarene University recently received the second of two grants totaling more than $1 million from Lilly Endowment Inc. to support efforts that increase the education and engagement of families to successfully pass on their Christian faith to their children.
In April 2022, Olivet received a $50,000 planning grant from Lilly Endowment to explore projects that could help increase the education and engagement of families as they seek to share their faith with their children. This fall, Dr. Houston Thompson, grant administrator for Olivet, and Dr. Leon Blanchette, professor in the School of Theology and Christian Ministry, were informed that Olivet would be awarded a second grant, for $999,451, to implement the projects and initiatives identified in the planning process.
"In the 38 years I have been serving in children's ministry, I have had a passion for helping parents pass their faith to their children," said Dr. Blanchette. "I did this with the families in my ministry, but it was mostly from the perspective of anecdotal knowledge not from actual research. I am now in a position to help implement what has been the passion of my heart for all these years. I feel blessed to be a part of a project that has the potential to make a significant difference in the Church."
The grant money will be used over a five-year period to support the development of surveys and training curriculum, the creation of a conference event on Olivet's campus, and the production of a podcast in partnership with Olivet's radio station Shine.FM (89.7 WONU). A survey to gauge the needs of parents and families will soon be dispersed to members of the 706 Nazarene churches in the 11 districts that regionally support Olivet.
"The initiatives of this program are designed to help parents in the churches of our educational region to effectively pass their faith to their children," says Dr. Blanchette. "We are hoping that our education and ministry students will engage in the training so when they become pastors they will be equipped to help their constituents in this way."
Further materials for the program will be developed using grant funding through the interdepartmental collaboration of Olivet professors including Dr. Lance Kilpatrick, Dr. Lisa Gassin, Dr. Mark Frisius, Dr. Kristian Veit and Dr. Blanchette. Olivet is one of 18 organizations to receive grants from Lilly Endowment through an initial invitational round of its Christian Parenting and Caregiving Initiative.
For more information about the School of Theology and Christian Ministry at Olivet, contact the Office of Admissions at admissions@olivet.edu or 800-648-1463.
Published 10/27/2022
LB