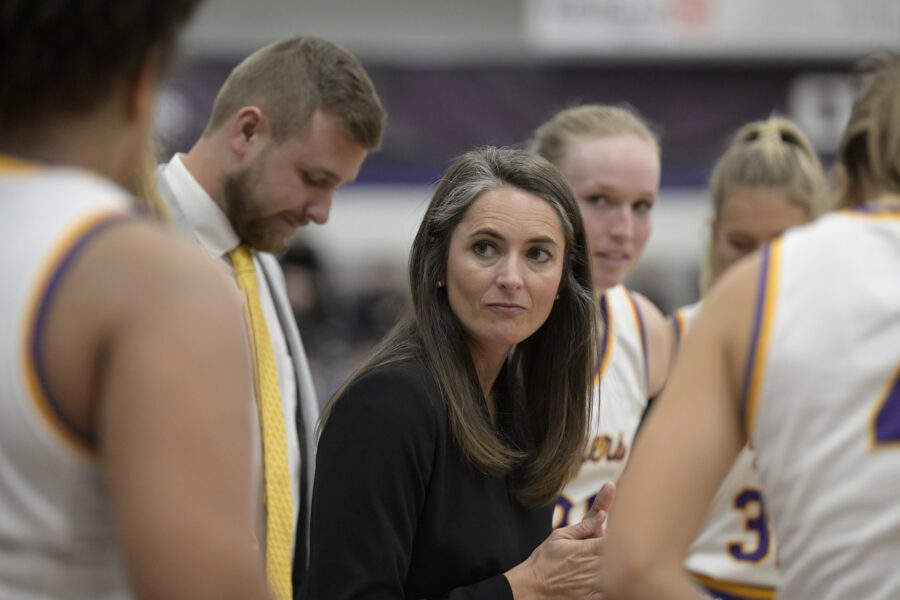 Lauren (Stamatis) Glenn '09 M.O.L.
What does it mean to be a Tiger?
When I started coaching, I strongly believed I was a transformational coach. I did what was best for my players and told myself winning was not the most important thing. The problem is, I'm very competitive. Anyone who has played, coached, watched or is emotionally invested in sports knows that winning and losing can create visceral reactions that send us into momentary highs and lows. Sports can bring out the best of us and the worst of us. Ultimately, I came to ask myself, "How do I define and measure success?"
In this world, we're surrounded by a culture that defines us by our wins and losses. This is only amplified in athletics, where records and stats are put out for the entire world to evaluate you. But it's also true for a student and businessperson, engineer or teacher. It's displayed when someone asks you how you did on an exam or a presentation. These measurements can be a helpful evaluation tool in their rightful place, but the world can define us by these physical measurements — which can become scary if we put our identity in these things.
Fortunately, that isn't how Jesus defines us. It's not what we do that defines us but what He has done for us. When we put our identity in Him, we can experience a freeing joy. This foundation of JOY (Jesus, Others, Yourself) helps us keep things in perspective in athletics and life. When we can rely on and put Jesus first as our rock and Savior through all highs and lows, put others second by serving and caring for their needs, and then take care of our own needs, we can experience true joy.
Now, 16 years after starting my coaching stint here at Olivet Nazarene University, I'm still just as competitive. I strive daily after the athletics mantra that you can see hanging in McHie Arena: "Winning Championships. Developing Champions." But I have a renewed perspective on success that's developed over time. In our program, success is now defined by these core values: Team first. Talk it out. Integrity. Grit. Go the extra mile. Enthusiasm. Respect. Responsibility. These values aren't just lived out in our program. You'll experience some version of these demonstrated across campus because they are Biblically based.
I've seen our admissions team serving prospective students with a team-first mentality. I've seen resident directors and assistants talk out difficult situations with students who came out stronger on the other side. I've seen integrity from a student-athlete who admitted the ball went out of bounds, and that changed an official's call. I've seen the grounds crew gritting it out at 4 a.m. after a snowstorm so the campus is clear for the first student who goes to class that morning. I've seen professors go the extra mile setting up a lab for a student who had to miss due to an athletics contest. I've seen the enthusiasm of our Sodexo dining team passing out cookies on "Warm Cookie Wednesday." I've seen the respect between departments across campus as we try to leave both people and things better than we found them. I've seen the responsibility our counseling services office has taken to care for the mental health of our students — so much so that they've proactively reached out to be a resource for students and coaches. The best part is there is an underlying joy you'll experience in these interactions with others around campus at Olivet.
In athletics and across campus, our success is defined by how we invest in and develop people. In 20 years, we'll know we've been successful when these men and women are people of grace and integrity who are loving husbands, wives, dads and moms; professionals; and leaders in their community.
That's what it means to be a Tiger.
From Olivet The Magazine, The Parent Guide – Summer 2023. Read the full issue HERE.