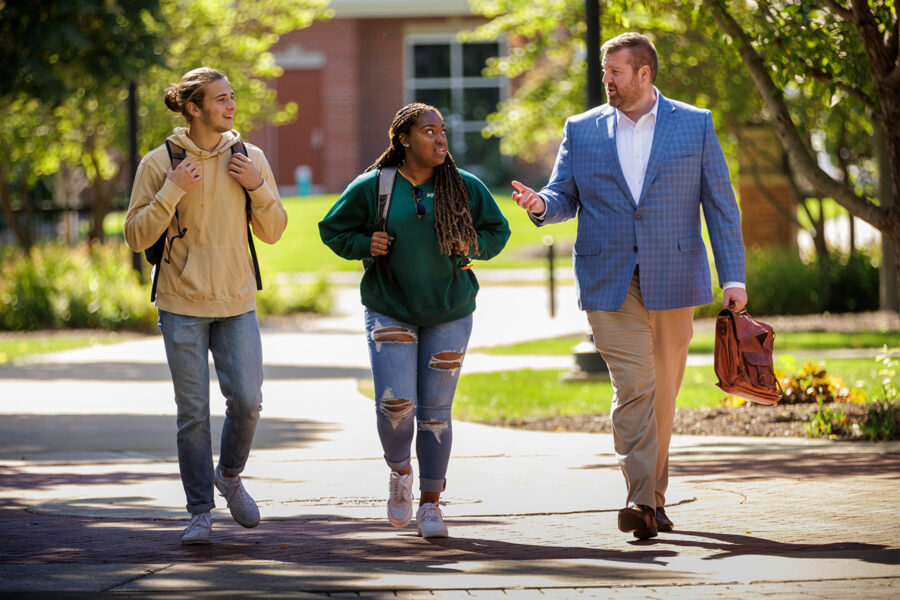 Each year, more than 110 students transfer to Olivet to complete their college education. Last fall, the diverse group of incoming transfer students represented 13 states and five countries. The Office of Admissions has a dedicated team of professionals who work exclusively with prospective transfer students to provide a smooth transition from one college experience to the next. Olivet offers competitive transfer scholarships and students find that most of their credits transfer to the University.
Sarah Harrington
Hometown: Hoffman Estates, Illinois Major: Public Relations and Strategic Communication; Minor: Graphic Design
"As a 2020 high school graduate, I began my college career at my local community college due to the pandemic. By making this decision, I knew that I would eventually have to transfer. I chose to transfer to Olivet because I wanted to attend a Christian school that was not too far from my hometown and that would provide a quality education.
"Because of the pandemic, my community college education was primarily online. Doing school online was difficult for me because I was constantly questioning my educational goals and didn't have access to hands-on experiences to explore my interests. I was very nervous that I would be behind my peers since I was transferring as a rising junior.
"When I came to Olivet, I felt immersed in my education. I was able to have hands-on learning through many of my classes. This past year, I was able to help plan an event with a non-profit, gain experience with clients through Inspired Strategies Agency, the student-run public relations agency on campus, and complete multiple internships. I feel like I had tremendous growth professionally within this first year and I am excited for another year of opportunities at Olivet.
"I have met a ton of people at Olivet including several other transfer students who were in the same situation as me. We bonded over our experiences and have created community. Some of my favorite memories are attending school events like Ollies Follies, the Christmas party, line dancing, Mr. ONU and other social events.
"Considering transferring colleges is a difficult decision. It was not an easy decision, but I have grown so much through this journey. If transferring is the best decision for you, then do it. You will not regret it."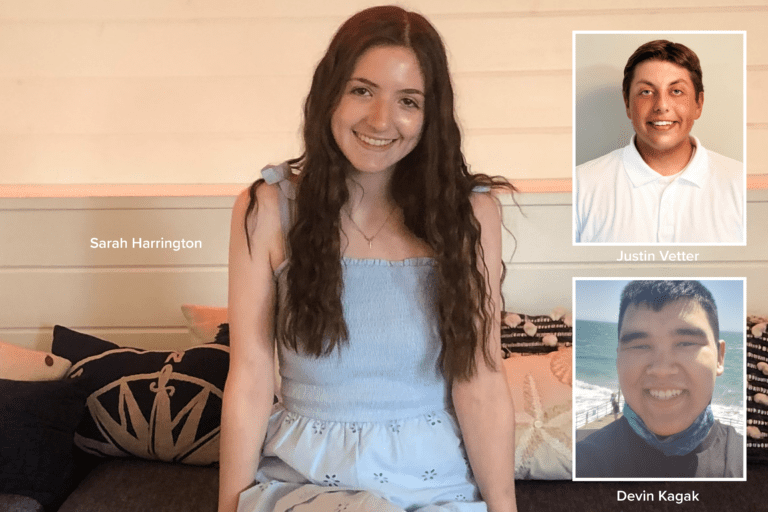 Devin Kagak
Hometown: Oshkosh, Wisconsin Major: Undeclared
"I started my college career studying at Fox Valley Tech and was originally going for carpentry, but decided to pursue something new. I'm not sure what that is yet, but I heard about Olivet from my high school friend, Abby Eaton.
"Going into a transfer setting was surprising for me because I thought I would be put with the rowdy group in dorm life but found out they were actually firm believers and held Bible studies. I've been connecting with churches at Olivet and ministries they have here.
"One highlight is the friends I've made that really brought me out of my shell. Dorm life was so great. I can hop over to a friend's dorm and play music or video games, or have heart-to-heart conversations at one in the morning. Events like Ollies Follies would be another highlight — finding new people to grow with Christ in is just one of Olivet's best qualities as a college.
"My advice for other students considering transferring is to not let yourself feel separated from other people because of the title 'transfer.' You belong at Olivet just like everyone else. And by the way, Luddy food is actually underrated compared to other schools!"
Justin Vetter
Hometown: New Lenox, Illinois Major: Marketing with a Management Concentration
"I attended a different college before transferring to Olivet because it was close to home and I could commute. However, I decided to transfer after I felt that the school did not align with my values, and I did not feel a true sense of community.
"The transfer process to Olivet was extremely easy. I felt right at home from the first step I took in the Office of Admissions. Everyone thoroughly answered any questions I had. The professors have also been extremely helpful assisting me in my career goals now as they were when I first began the transfer process.
"Olivet is one big community. I met my roommate the first night of orientation, and he was the first of the many wonderful people I now know. One highlight from my time so far is being a three-time intramurals champion. I also went on a ski trip with some friends, and it was a memorable first-time skiing experience!
"For anyone considering transferring colleges, do not rush to make a decision! I spent several months sorting out the pros and cons of different universities. Each college is unique and connects to a person differently. You can also reach out to people who attend the university currently and ask them any questions you have.
"Most importantly, any transferring decision will never be perfect. Although there may be rough times wherever you choose to transfer to, trust that God is bringing you there to not only be successful, but to glorify Him in the biggest way!"
From Olivet The Magazine, The Parent Guide – Summer 2023. Read the full issue HERE.