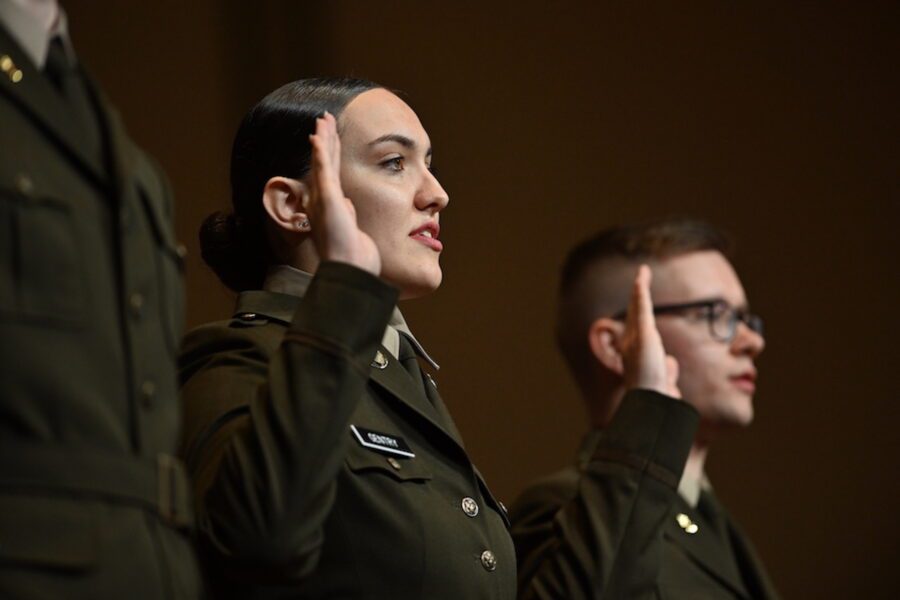 From Enlisted to ROTC Hernandez & Gankhuleg follow their army dreams.
Written by Thaliya Martinez, Class of 2024
FORT KNOX, Ky. – Cadets from 1st Regiment, Advanced Camp, completed the field leader reaction course at Fort Knox, Kentucky, June 12, 2023. The FLRC challenged the Cadets today on how to critically think, solve problems, work under pressure, and learn more about each other as a leader. Some obstacle courses had a solution, and some did not have any solution, but the whole point of the FLRC is to teach Cadets on how to work together as a team while assimilating the Army values.
Staff Sgt. Matthew Hernandez is a Cadre member assigned to the FLRC during Cadet Summer Training at Advanced Camp. He believes that the purpose of FLRC is to build team skills within Cadets squads so that they can train and learn to work well together not only for the FLRC event throughout but also for their time here at CST.
Hernandez has never gone to college and is enlisted in the U.S. Army. His military occupational specialty used to be a motor transport operator or 88M. The motor transport operator's primary job is to operate military vehicles and transporting cargo and personnel. After being a motor transport operator, Hernandez transferred into an instructor while still holding the MOS as active duty training.
Hernandez's goal as Cadre is to train Cadets on how to work together as a team while incorporating leadership skills.
"My goal as Cadre is to help Cadets and to show the importance of being a leader, getting out there, formulating a plan, executing the mission, and getting to the end result." Hernandez continued, "That way they come together better as a team and to give them advice on the way through on how to build on those leadership skills."
Cadet Chinguun Gankhuleg from Olivet Nazarene University joined the Reserve Officer Training Corps to become an officer. He enlisted in the U.S. Army while in ROTC.
"I need to do something more than just being a Soldier to lead others." Gankhuleg said.
Gankhuleg attended basic training in the summer of August 2021. He decided to do basic training because he wanted to get his naturalization through his military service. He is currently in the U.S. Army Reserves, and he works with the 739th Multi-Role Bridge Company. Their MOS is 12C, Army bridge crewmembers, and they operate on bridge trucks and provide bridge support.
Gankhuleg believes that the purpose of FLRC is team building and problem solving. One thing the FLRC has taught him as a leader is to communicate with every member on his team. His motivation comes from remembering the time when he was wet and cold while doing land navigation, which is another Advanced Camp event that Cadets have to pass at CST.
Gankhuleg favorite Bible verse is Jeremiah 29:11: "where God knows our plans, and He guides us through it all," Gankhuleg said.
After Advanced Camp, Gankhuleg will go to air assault training at the U.S. Military Academy West Point.
Written by Thaliya Martinez, Class of 2024
–Shared from futurearmyofficers —