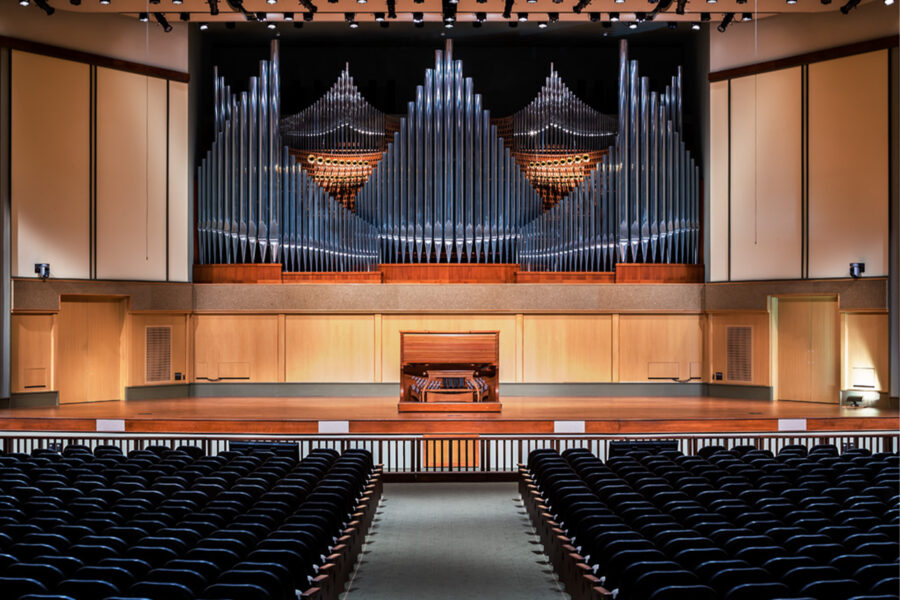 Centennial Chapel at Olivet Nazarene University will once again be the site of a premier organ performance event with five concerts scheduled in late 2023 and early 2024. Well-known organists from the United States and Italy will present programs to showcase the power and versatility of ONU's Ruffatti organ.
"ONU has the responsibility to share this gift of music with everyone," says Josh Ring, organist and affiliate professor in ONU's School of Music. "Music has the power to uplift, heal, inspire, unite, bring us closer to God, and so much more. The organ as an instrument still has a valuable voice in the music world and on the concert stage, as well as in church settings."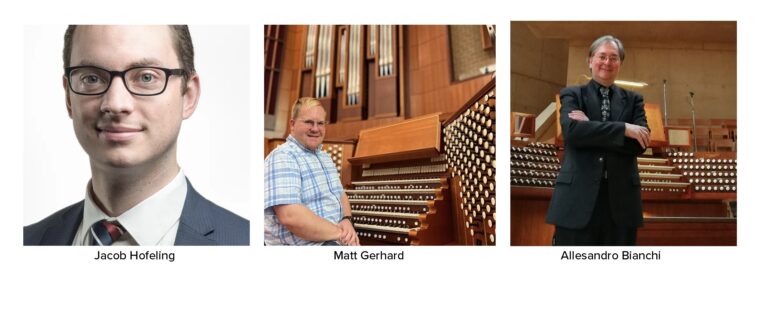 Organists featured in the 2023−2024 Ovid Young Memorial Organ Recital Series include:
Monday, October 2, 2023, 12 noon
Hofeling holds a doctorate in musical arts in organ from the University of Kansas, where he studied with James Higdon and Michael Bauer. He studied abroad at the Hochschule für Künste in Bremen, Germany, under Professor Edoardo Bellotti. He is director of music and liturgy at St. Mark Catholic Church in Independence, Missouri, and was a guest recitalist on the historic Tabernacle Organ on Temple Square in Salt Lake City.
Friday, October 20, 2023, 3 p.m. (ONU Homecoming concert)
Gerhard serves as director of music at Kokomo Zion Church and assistant director at Northwestern Middle School and High School in Indiana. He has studied classical and church organ, and has had coaching in theatre organ and silent film accompaniment. In December 2023, he will be the official organist for the 90th annual Purdue Christmas Show, performing 30-45 minutes of Christmas music before each of the four presentations.
Monday, November 20, 2023, 7 p.m.
Born in Como, Italy, Bianchi studied at the Piacenza Conservatoire with Luigi Toja and earned diplomas in organ and organ composition. He is the artistic director of the musical association "Amici dell'Organo di Cantu'" and organist of St. Edward's the Confessor Anglican Church in Lugano, Italy. He has played more than 2,300 recitals as a soloist in many international organ festivals.
Monday, March 25, 2024, 12 noon (tickets coming soon)
A Chicago-based composer, pianist, organist, and harpsichordist, Kim is noted for her vibrant performances and compositions in a wide diversity of musical styles. As a soloist and collaborative artist, she enjoys performing piano and organ recitals, chamber music, and jazz. She has worked for the Ravinia Festival since 2008 on various projects and has performed with the Chicago Symphony Orchestra. She currently serves as principal organist at Christ Church of Oak Brook.
Jane Holstein, ONU alumna, and Elizabeth Harrison, vocalist
Monday, April 8, 2024, 12 noon (tickets coming soon)
Holstein holds a doctorate in music from Northwestern University. She is active in church music as the director of music ministries at the First Presbyterian Church of River Forest, Illinois, overseeing the vocal choirs, handbell choir and brass ensemble. One of her greatest joys is leading worship from the organ bench as the congregation sings the great hymns of the church.
All concerts will take place in ONU's Centennial Chapel and are open to the public. Parking is available near the chapel.
ONU's Ruffatti organ is of the quality and craftsmanship that one might expect to find in the finest cathedrals and churches throughout Europe and America. It is the creation of Fratelli Ruffatti of Padua, Italy, one of the world's most distinguished pipe organ builders.
In 2004, when Betty and Kenneth '53 Hawkins first heard about ONU's plans for a new Chapel, they contacted University President John Bowling about a gift they wanted to make. They strongly believed that the Chapel needed an important organ, that it would be a mark of maturity for ONU as a higher education institution.
Mr. and Mrs. Hawkins requested that the late Dr. Ovid Young '62 — professional organist, family friend, professor and artist-in-residence in ONU's School of Music — chair the committee in charge of choosing, purchasing, installing and introducing the new organ.
ONU's Ruffatti organ has an imposing four-manual console that controls controls the "speech" of the glorious array of pipes — thousands of them, seen and unseen. It is an instrument of 125 ranks, including 75 ranks of Ruffatti wind-blown pipes and a digital component of 50 additional ranks from the Massachusetts firm of Marshall and Ogletree.
"ONU is bringing in stellar artists for our student musicians and community to hear live," Ring says. "Alessandro Bianchi reached out to me from Italy, asking if he could come play ONU's Ruffatti organ. Our Organ Recital Series is a great way to spread the love of the organ with more generations."
Learn more about ONU's School of Music degree programs here.